The science behind Biotène
Biotène contains a blend of moisturisers and lubricants1
Biotène Oralbalance Gel, Biotène Mouth Spray and Biotène Mouthwash contain a high concentration of moisturisers and lubricants that provide oral moisturisation.1 One of these key ingredients is glycerol,1 which acts by forming chemical bonds with water molecules to moisturise underlying tissue by retaining water in the mouth.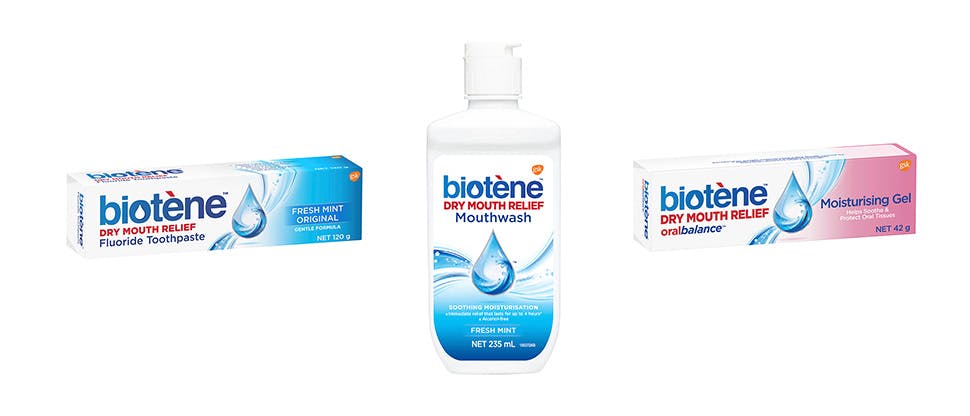 Relief for a dry mouth that helps maintain a healthy oral environment for patients*2–4
*excluding toothpaste
Biotène products have a pH within the range of 6.0–7.8. This helps to maintain a close-to-neutral pH in the mouth, which is a healthier environment for the teeth and oral soft tissues (target normal resting pH 6.3–7.0).2–4
Biotène Oralbalance Gel – pH 6.62
Biotène Mouthwash – pH 6.0-7.03
Biotène Toothpaste – pH 6.2-7.84
Biotène Mouth Spray – pH 6.0 -7.0
Biotène products are specially designed for a dry mouth and have a pH similar to natural saliva.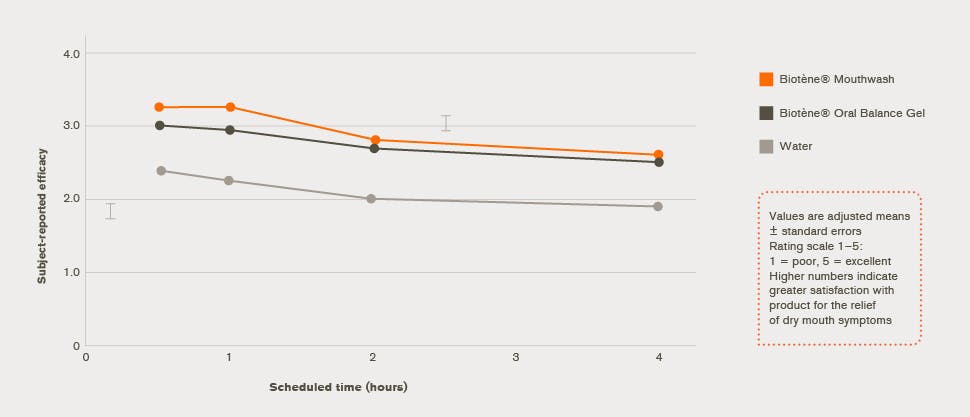 Relieves the discomfort of dry mouth
Biotène products were more effective than water only at providing relief from a dry mouth,1 providing immediate and long-lasting relief from dry mouth symptoms for up to 4 hours*.1
*As measured in a 28-day clinical study, 2–5 times a day (mouth rinse) and as required (gel)1
For more educational resources on oral care, visit our Learning Lab.
Biotène helps provide soothing and moisturising relief for patients with a dry mouth
Help your patients get relief from a dry mouth with Biotène