Acute Sprains and Strains: Management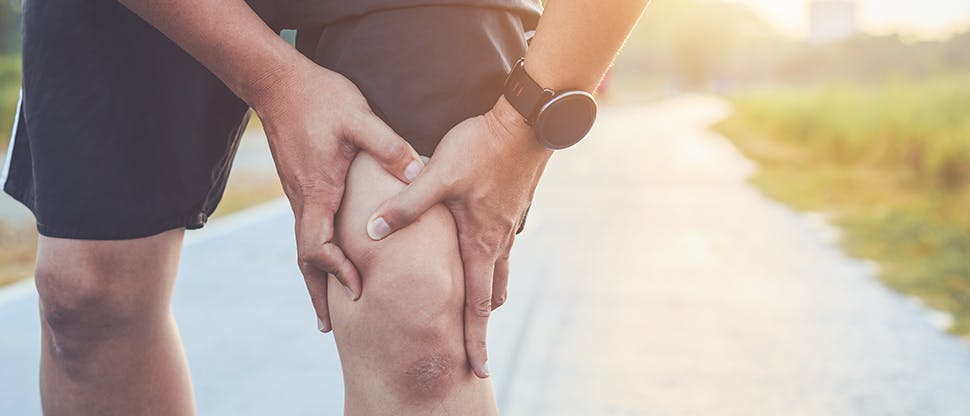 Managing muscular sprains and strains
Fortunately, sprains and strains typically respond well to treatment.
Patients with sprains and/or strains should start to feel better after 2 weeks without any intervention.1
Below we review the different approaches that could help your patient get back to enjoying their life in the case of acute, mild-moderate sprain/strain injuries.
NICE guideline recommendation for treating sprains and strains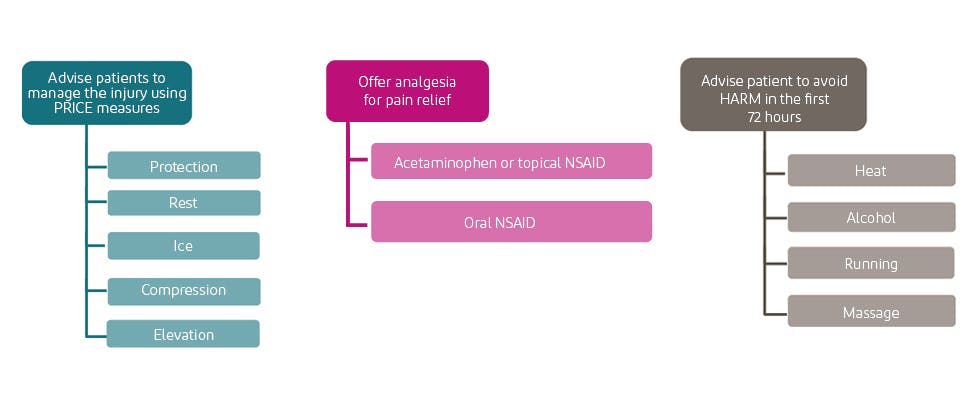 Sprains and strains can be managed simply in the first 48- 72 hours following the soft tissue injury2
According to guidance from the National Institute for Health and Care Excellence, patients with sprains or strains should be advised to follow the PRICE protocol in the first few days after the injury.2-4
The HARM protocol identifies key factors that should be avoided for the first 72 hours post-acute injury.5
Read more about these approaches below.
PRICE protocol for sprains and strains

PRICE stands for:2,4

P

rotection

R

est

I

ce

C

ompression

E

levation

Protection

Protect from further injury (e.g., by using joint supports)2,4

* Important: If Voltaren is recommended, it should NOT be used with occlusive dressings.6,7

Rest

For the first 48–72 hours after injury2,4

Ice

Apply ice wrapped in a damp towel for 15–20 minutes every 2–3 hours during the day (while awake) for the first 48–72 hours after injury2,4

Compression

With a snug (not tight) elastic or tubular bandage, while the patient is awake2,4

* Important: Voltaren should NOT be used with occlusive dressings, as absorption of diclofenac through the skin can be increased by 3–10 times after application of an occlusive dressing.6,7


Elevation

Keep the injured area raised and supported on a pillow until the swelling is reduced2,4

The PRICE protocol summarizes how patients can take care of their acute sprain or strain in the first few days after the injury.2
The HARM protocol for sprains and strains

HARM describes some key factors to avoid in the first 72 hours after an injury:5

H

eat

A

lcohol

R

unning

M

assage

Heat

Avoid heat sources such as baths and heat packs. Heat encourages blood flow, which will tend to increase bruising and inflammation5

Alcohol

Avoid alcohol, which can increase bleeding and swelling and reduce healing5

Running

Avoid running or other forms of exercise that can cause further damage5

Massage

Avoid massage, which can increase bleeding and swelling5

The HARM protocol summarizes what patients should avoid in the first 72 hours if they have a sprain or strain.5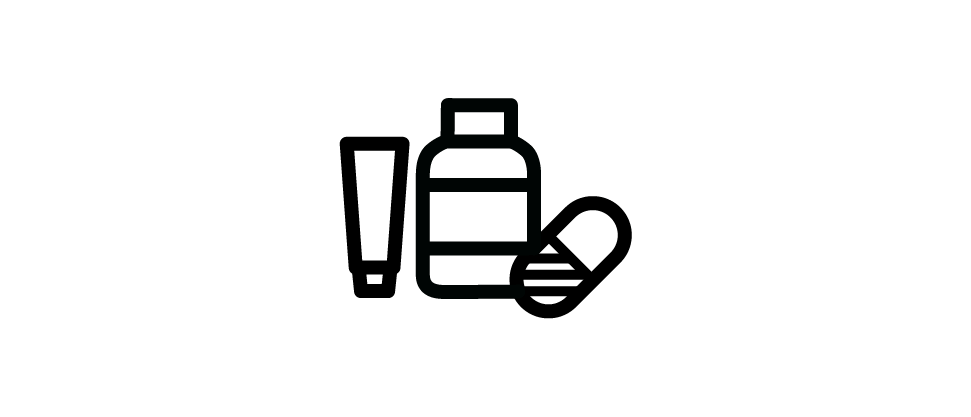 Analgesics can be used to relieve pain from acute sprains and strains
Acetaminophen, topical non-steroidal anti-inflammatory drug (NSAID) medications, or oral NSAIDs can be used to help manage acute sprains and strains.3*
* These products should not be used together.
Utilizing physical therapy to improve outcomes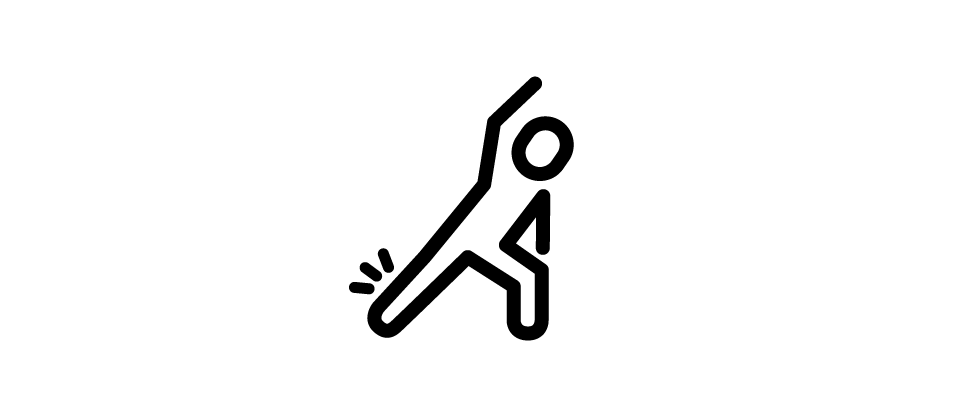 After the first 72 hours, physiotherapeutic interventions can be beneficial for soft tissue injuries
Treatment and rehabilitation plans must be individually tailored to maintain and improve range of motion, reduce pain and inflammation, and improve functional activities.8
For example, massage therapy can reduce muscle soreness — although this should not be used in the first 72 hours after the injury.5
Appropriate strengthening programs using tailored exercises are often required in the longer term to maximize recovery, and training regimens may need to be adjusted.8
How can Terry & Nicola be helped?
Terry
Terry* has sprained his ankle from playing tennis and is struggling to work and take care of his children.
Terry wants effective pain relief.
Voltaren is absorbed through the skin to reach the area of inflammation, providing relief from pain and inflammation after soft tissue injuries, so Terry can get back to doing the activities he enjoys.9
* Fictional case study.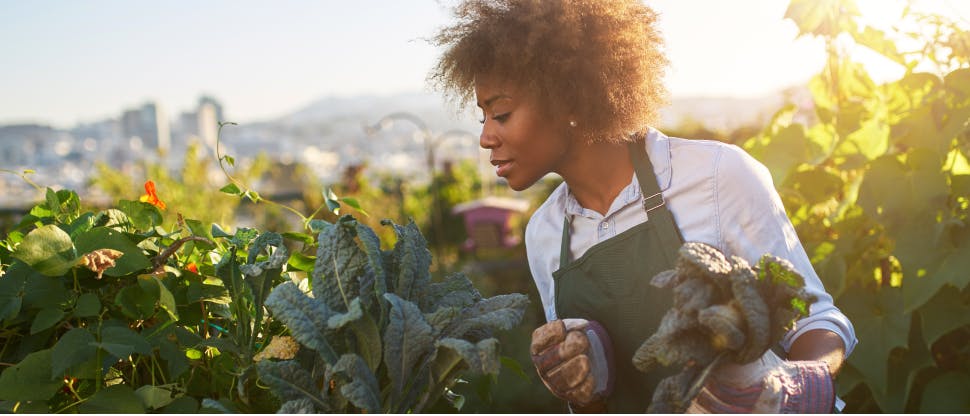 Nicola
Nicola* has strained her back after a weekend gardening and is having trouble performing everyday activities.
Nicola wants pain relief.
Advil Liqui-Gels act fast to relieve acute pain from backache so that Nicola can get back to her busy lifestyle and gardening on the weekends.10,11
* Fictional case study.
Understanding acute sprains and strains