Help your customers to kick the habit for good with Nicotinell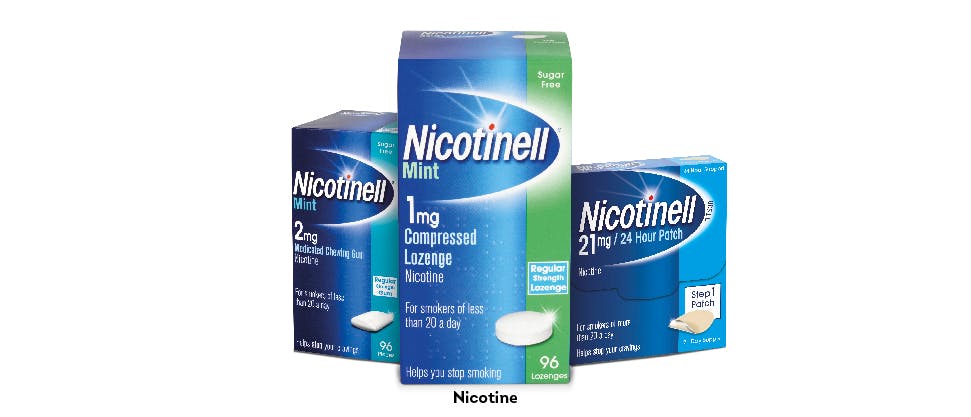 60% greater chance of quitting1 with combination therapy vs single product Nicotine Replacement Therapy (NRT) treatment
A range of products to help provide effective relief from nicotine cravings.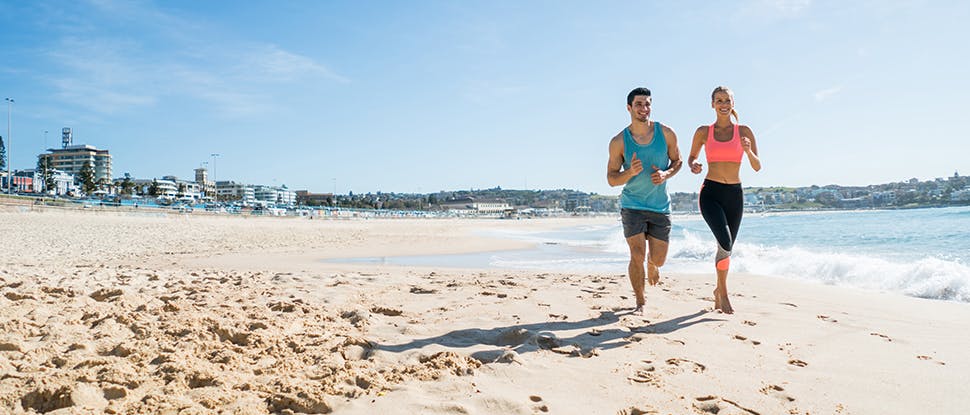 NRT allows patients to decrease their therapeutic nicotine intake, as both the physical and behavioural dependency is reduced2-4
Public Health England recommends combining NHS local stop smoking services with the use of smoking cessation aids including NRT to increase success rates by up to four times5.
How NRT works
Many smokers trying to quit experience withdrawal symptoms and cravings that may be hard to overcome with willpower alone.
NRT products deliver lower levels of therapeutic nicotine without the 7000 other chemicals found in tobacco smoke.
Approximately 70-90% of smokers say that withdrawal symptoms and cravings are the reason they do not quit smoking. Nicotine replacement therapy (NRT) can help relieve physical withdrawal symptoms6.
NRT addresses your customers' physical need to smoke using consistent, controlled therapeutic nicotine to wean them down gradually7-9.
By reducing the physical symptoms from smoking cessation, NRT enables the customer to focus more on the emotional aspect of quitting6.
NRT helps manage withdrawal symptoms, which manifest within the first 1-2 days, peak within the first week and gradually dissipate over 3-4 weeks10.
Cravings are often psychologically motivated and can last for months. The use of behavioural programmes in conjunction with NRT can improve success11.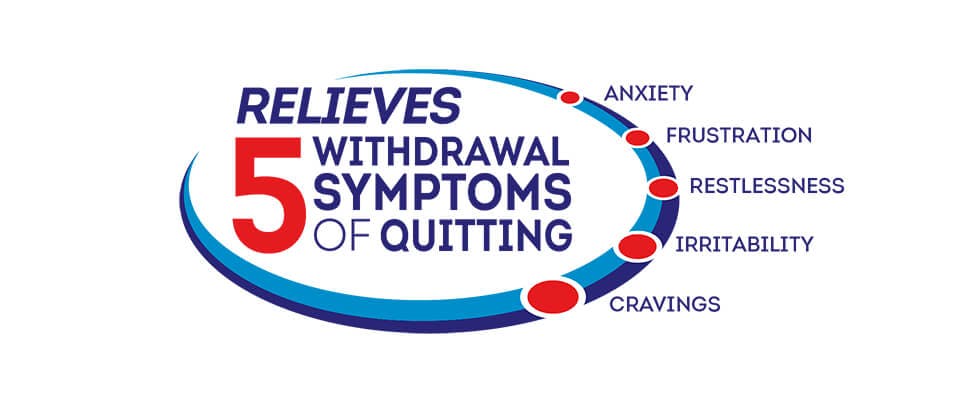 Nicotinell products help relieve the 5 withdrawal symptoms of quitting
Nicotinell can make it easier for your customers to stop smoking because it helps relieve their cravings.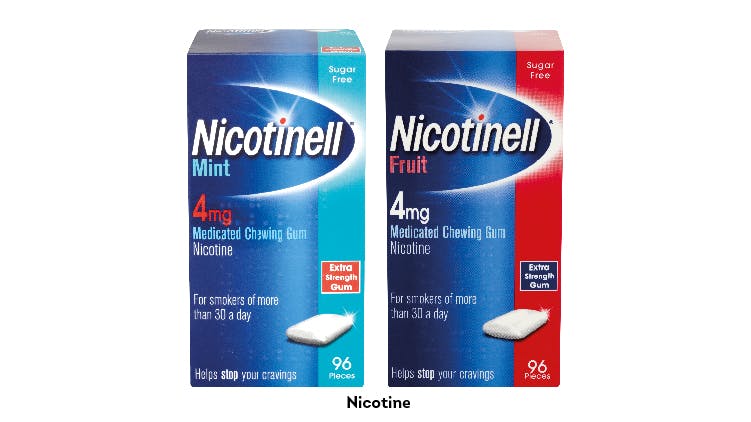 Nicotinell Medicated Chewing Gum
Rapid relief from sudden cravings.
Nicotinell gum is available in two flavours, mint or fruit, to satisfy varying tastes. Easy to chew with a crispy coating just like normal gum.
Available in 2 mg and 4 mg, in pack sizes of 96 and 204 pieces.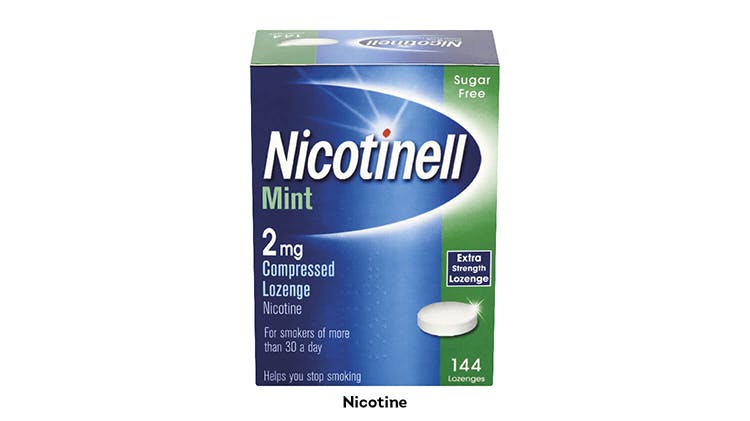 Nicotinell Compressed Lozenge
Starts to work in minutes; provides long-lasting craving relief.
Nicotinell lozenges help customers stop smoking with a fresh, minty taste. Customers can use the lozenges discreetly to help them stop smoking at work or on other occasions where they cannot chew gum.
Available in 1mg and 2mg strength, in pack sizes of 12, 96, 144, 204.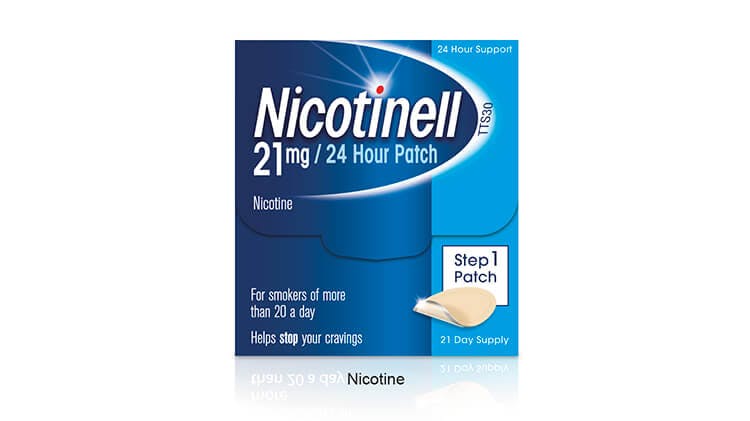 Nicotinell 24 Hour Patch
24 hour nicotine craving relief.
Nicotinell patches contain enough nicotine protection for 24 hours when customers stop smoking.
By using the patches for 24 hours, customers will have nicotine in their blood when they wake up, so they'll be ready to face the morning cravings more easily.
Nicotinell patches are available in three strengths: 7 mg, 14 mg and 21 mg in pack sizes of 10, 20 and 30 patches.
Step 1 is in pack size of 7s and 21s
Step 2 and 3 only pack size of 7s
Nicotinell Mint 2mg/4mg medicated chewing gum, Nicotinell Fruit 2mg/4mg medicated chewing gum (nicotine polacrilin). Nicotinell TTS Patch 10, 20, 30 (nicotine). Nicotinell Mint 1mg/2mg Lozenge (nicotine bitartrate dihydrate).

Indications: Treatment of nicotine dependence, as an aid to smoking cessation.

Dosage and method of use Gum: Adults and elderly: Chew one piece of gum when urge to smoke is felt. Normally 8 to12 pieces per day, up to a maximum of 25 pieces of 2mg gum per day or 15 pieces of 4mg gum per day. After 3 months, gradually cut down the gum usage. The 4mg gum is for those with a strong nicotine dependency. Adolescents (12 to 18 years): As for adults but seek medical advice if more than 12 weeks treatment required.

Patches: Adults: For those smoking ≥20 cigarettes a day: Nicotinell TTS30 (Step 1) once daily. Those smoking <20 start with Nicotinell TTS20 (Step 2) once daily. Reduce nicotine dose over treatment periods of 3 to 4 weeks by reducing patch strength in stepwise fashion. Use continuously for three months, if abstinence not achieved after 3 months further treatments may be recommended. Adolescents (12 to 18 years): Follow above recommendations. Seek medical advice if treatment is required for longer than 12 weeks.

Lozenge: Smoking cessation: Stop smoking completely during treatment. Suck one lozenge slowly. Normally, 8 to 12 lozenges per day, max. Maximum of 24 1mg lozenges per day or 15 2mg lozenges per day. After 3 months, gradually cut down the usage. The higher strength lozenge is for those with a strong nicotine dependency. Smoking reduction: Use to prolong smoke-free intervals to reduce smoking. Gradually replace cigarette number with lozenge. If a cigarette reduction of ≥50 % per day is not achieved after 6 weeks, or quit attempt not made within 6 months of starting treatment seek medical advice. Start quit attempt once ready but no later than 4 months after treatment starts. Gradually reduce lozenge number. Not generally recommended for regular use beyond 6 months. Combination treatment: For when treatment fails with lozenge alone, 1mg lozenge and patch used together for those smoking >20 cigarettes a day, recommended to seek HCP advice. 2mg lozenge not licensed for combination therapy. Start with one patch 21mg/24 hours plus 1mg lozenge (generally 5-6 pieces per day). Max 15 lozenges a day. Treat for 6-12 weeks, then gradually reduce nicotine dose by either 1) reducing patch strength sequentially at 3-6 weeks intervals, then gradually reducing number of lozenges. OR 2) discontinuing use of patches and gradually reducing number of lozenges. Alternate patch application site to avoid skin irritation. Max treatment duration is 9 months. Children and young adults (<18 years): Use only on medical advice.

Contraindications: Known hypersensitivity to nicotine or any of the excipients. Use by non-smokers. Patches: also diseases of the skin.

Precautions: Use with caution in patients with: cardiovascular disease, history of seizure or those taking anti-convulsant therapy, diabetes mellitus, hyperthyroidism, pheochromocytoma, moderate to severe renal and/or hepatic impairment, active oesophagitis, oral and pharyngeal inflammation, gastritis, gastric/peptic ulcer. Patients should initially be encouraged to stop smoking with non-pharmacological interventions (such as counselling). Keep out of the reach and sight of children at all times due to potential poisoning risk. Patches: Discontinue use if a severe or persistent skin reaction occurs. Nicotinell TTS contains aluminium and should be removed prior to undergoing defibrillation, MRI or cardioversion procedures.

Side effects: See SPCs for full details. Certain symptoms such as depression, irritability, nervousness, restlessness, mood lability, anxiety, drowsiness, impaired concentration and insomnia may be related to withdrawal symptoms associated with smoking cessation. Quitting smoking by any means can lead to asthenia, headache, dizziness, coughing or influenza-like illness. Very common: vomiting, application site reactions. Common: agitation, anxiety, nervousness, cough, pharyngitis, dyspnoea, abdominal pain, upper dyspepsia, dry mouth, increased sweating, myalgia, asthenia, fatigue, insomnia, abnormal dreams, nausea, headache, dizziness, stomatitis, flatulence, oesophagitis, arthritis, constipation, diarrhoea. Uncommon: palpitations, application site pain, hypertension, hypersensitivity, disturbance in attention, somnolence, affect lability, irritability, depressed mood and confused state, paraesthesia, dysgeusia, blurred vision, tachycardia, hyperhidrosis, arthralgia, malaise, influenza type illness, asthenic conditions, pain and discomfort. Rare: dyspnoea, atrial arrhythmia, tremor, chest pain. Very Rare: anaphylactic reactions, allergic dermatitis, contact dermatitis, photosensitivity. Frequency not known: allergic reactions such as urticaria, rash and pruritus; angioedema and anaphylactoid reaction.

Product licence number, legal category, pack size and RSP (excl. VAT): Nicotinell Fruit 2 mg Medicated Chewing Gum, PL 44673/0122: GSL, 96: £12.33, 204: £21.24; Nicotinell Fruit 4 mg Medicated Chewing Gum, PL 44673/0123: GSL, 96: £15.31; Nicotinell Mint 2 mg Medicated Chewing Gum, PL 44673/0126: GSL, 96: £12.33, 204: £21.24; Nicotinell Mint 4 mg Medicated Chewing Gum, PL 44673/0127: GSL, 96: £15.31; Nicotinell TTS 10, PL 44673/0128: GSL, 7: £13.61; Nicotinell TTS 20, PL 44673/0129: GSL, 7: £14.04; Nicotinell TTS 30, PL 44673/0130: GSL, 7: £14.89, 21: £36.59; Nicotinell Mint 1 mg Compressed Lozenges, PL 44673/0118: GSL,12: £2.37, 96: £13.61, 144: £17.14, 204: £19.05, Nicotinell Mint 2 mg Compressed Lozenges, PL 44673/0119: GSL, 96: £15.83, 144: £20.00, 204: £22.29.

PL holder: GlaxoSmithKline Consumer Healthcare (UK) Trading Limited, 980 Great West Road, Brentford, Middlesex, TW8 9GS, U.K.

Date of preparation: May 2020.

Help your patients quit smoking for good with Nicotinell