Voltarol Science - Diclofenac
Product Information can be found at the bottom of the page
Acts through cyclo-oxygenase-2 (COX-2) inhibition, striking inflammation at its source
Learn how diclofenac reduces inflammation by inhibiting prostaglandin biosynthesis through action on the COX enzymes with selectivity for COX-2, and inhibiting phospholipase A2 activity to reduce the production of inflammatory leukotrienes.1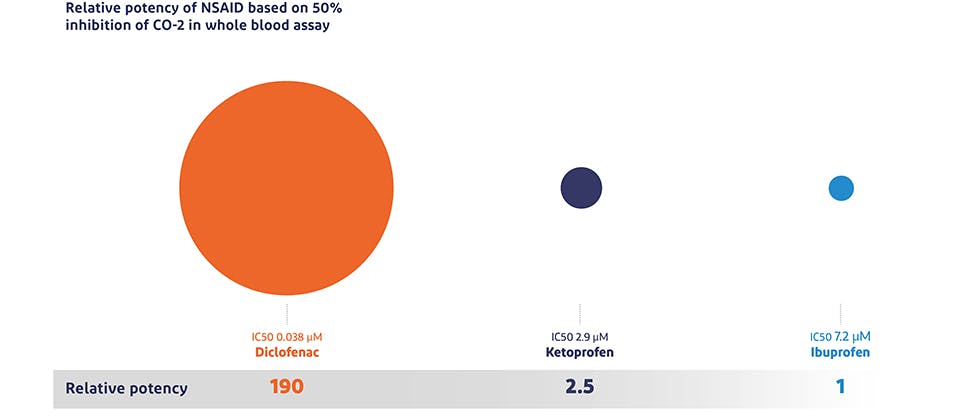 Diclofenac is a potent anti-inflammatory agent1
Its effect on the COX-2 enzyme means that, unlike non-NSAID medications such as paracetamol, diclofenac not only provides pain relief but also reduces inflammation – a root cause of pain.
Diclofenac, an NSAID (and therefore in the same drug class as ketoprofen and ibuprofen), shows marked potency in its inhibition of the COX-2 enzyme.3
Diclofenac targets inflammation to strike pain at its source
Product Information: Please consult the Summary of Product Characteristics for full product information.
Voltarol Emulgel P 1% w/w Gel (diclofenac) and Voltarol Emulgel Extra Strength 2% w/w Gel (diclofenac). Indications: For the local symptomatic relief of pain and inflammation in trauma of tendons, ligaments, muscles and joints, localised forms of soft tissue rheumatism.
Dosage: Adults and adolescents 14 years and over: Voltarol Emulgel P 1% w/w Gel: 2g to 4g of gel, applied topically 3-4 times daily. Voltarol Emulgel Extra Strength 2% w/w Gel: 2g to 4g of gel, applied topically 2 times daily – morning and evening. Maximum recommended that treatment duration is 14 days. Patients should consult their doctor if the condition does not improve within 7 days or worsens.
Contraindications: Patients with or without chronic asthma in whom asthma, angioedema, urticaria or acute rhinitis are precipitated by aspirin or other non-steroidal anti-inflammatory agents. Hypersensitivity to diclofenac, acetylsalicylic acid or other non-steroidal anti-inflammatory drugs. Hypersensitivity to any other ingredient of the gel. Use in third trimester of pregnancy. Use in children and adolescents aged less than 14 years.
Warnings and precautions: Apply only to intact, non-diseased skin and not to skin wounds or open injuries. It should not be used with occlusion. It should not be allowed to come into contact with the eyes or mucous membranes and should never be taken by mouth. Application over extensive areas for prolonged periods or application in excess of recommended dosage may give rise to systemic effects. These include gastrointestinal disturbances and bleeding, irritability, fluid retention, rash, hepatitis, renal dysfunction, anaphylaxis and rarely blood dyscrasias, bronchospasm and erythema multiforme. Discontinue if rash develops. Use with caution in patients with a history of peptic ulcers, gastrointestinal bleeding, hepatic or renal insufficiency, or bleeding diathesis, or intestinal inflammation.
Pregnancy and lactation: The systemic concentration of diclofenac is lower after topical administration, compared to oral formulations. During the first and second trimester of pregnancy, diclofenac should not be given unless clearly necessary. Only use during lactation on the advice of a health professional. Contraindicated during the third trimester of pregnancy. Should not be applied on the breasts of nursing mothers, nor elsewhere on large areas of skin or for a prolonged period of time.
Side effects: Very rare: rash pustular, hypersensitivity (including urticaria), angioedema, asthma, photosensitivity reaction. Rare: Dermatitis bullous. Common: Dermatitis (including contact dermatitis), rash, erythema, eczema, pruritus.
Overdose: The low systemic absorption of topical diclofenac renders overdosage extremely unlikely.
MA Holder: GlaxoSmithKline Consumer Healthcare (Ireland) Limited, 12 Riverwalk, Citywest Business Campus, Dublin 24, Ireland.
MA Number: Voltarol 1% w/w Gel: PA 678/140/2. Voltarol 2% w/w Gel: PA 678/140/3.
Legal Category: Pharmacy only.
Text revised: August 2020. Further information available on request. The Voltarol Gel range contains diclofenac diethylammonium. Always read the label/leaflet.
Diclofenac-containing products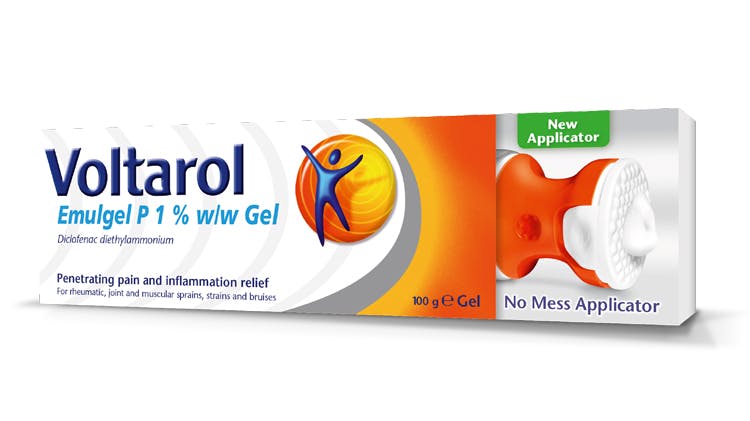 Scientifically proven to help relieve muscle pain, reduce inflammation and restore movement.4-6
See the evidence for Voltarol Emulgel P 1% w/w Gel. 100g pack available with no mess applicator.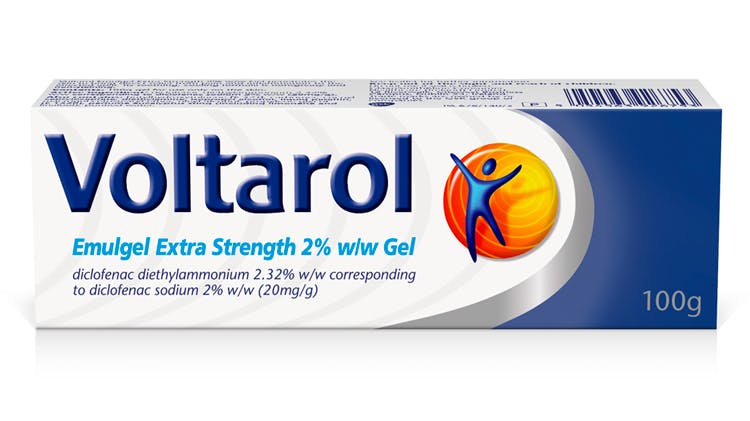 With a permeation enhancer to increase penetration of diclofenac,7 it provides up to 12 hours of relief from joint pain.4
See how Voltarol Emulgel Extra Strength 2% w/w Gel can help your patients, with just twice daily topical application
Diclofenac – a potent anti-inflammatory ingredient1