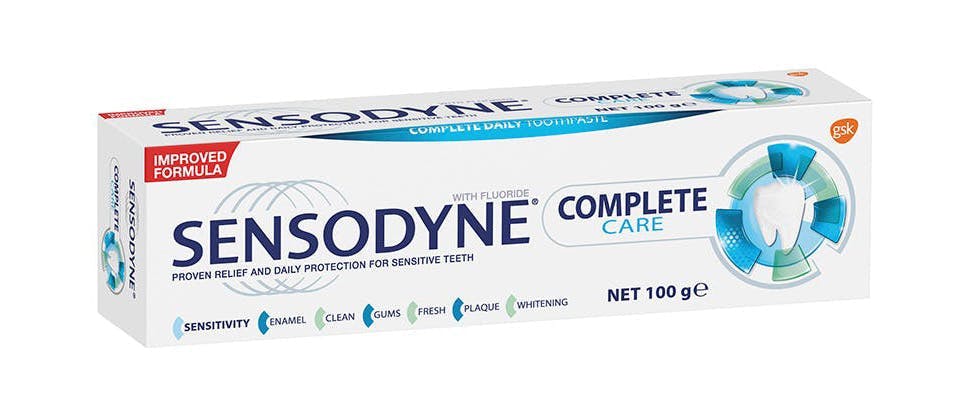 Sensitivity relief in one everyday toothpaste
Sensodyne Complete Care toothpaste for sensitivity relief is powered by Stannous fluoride to provide all-round care for patients.*
Proven relief from sensitivity and daily protection* for sensitive teeth1–3
Builds a robust layer over exposed dentine^
Strengthens enamel4,5
Helps maintain gingival health*6,7
Helps control dental plaque*
Helps maintain the natural whiteness of teeth8
*With twice daily brushing^Restores a protective layer over the sensitive areas of the teeth. Brush twice a day for lasting sensitivity protection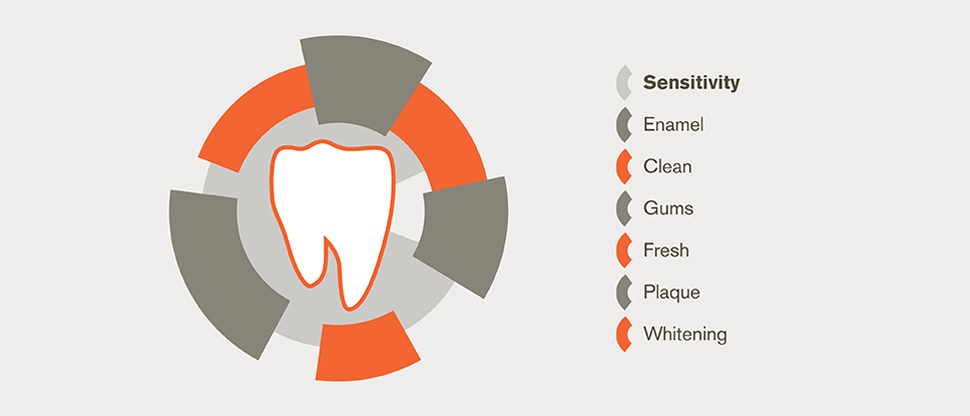 One complete sensitivity toothpaste specially designed with seven benefits*1–8
Sensodyne Complete Care is specifically designed to care for sensitive teeth and provides seven benefits with twice daily brushing.1–8
It contains 0.454% Stannous fluoride a proven occluding technology for sensitivity relief,1–3 and fluoride to strengthen enamel.4,5
With twice-daily brushing, Sensodyne Complete Care relieves sensitivity, while helping to reduce dental plaque, maintain gum health,6,7freshen breath8and maintain the natural whiteness of the teeth.8
*With twice-daily brushing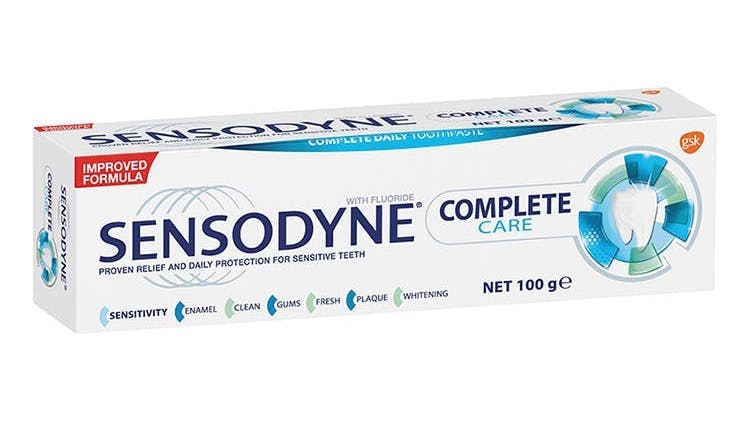 Sensodyne Complete Care (0.454% Stannous Fluoride)
For patients with dentine hypersensitivity who need sensitivity relief in a toothpaste with all-round benefits.1,3–6
Also available in Extra Fresh variant.
Glycerin, PEG-8, Hydrated Silica, Pentasodium Triphosphate, Flavour, Sodium Lauryl Sulfate, Titanium Dioxide, Carbomer, Sodium Saccharin, Stannous fluoride, Cocamidopropyl Betaine, Limonene.

DO NOT SWALLOW. Not for use by children 12 years of age or under unless on the advice of a dental professional or doctor. Do not use if carton seals are open. ALWAYS FOLLOW THE LABEL. Brush twice a day and not more than 3 times, be sure to spit out. If irritation occurs discontinue use. Keep out of reach of children. Replace lid to keep product dry.

Sensitive teeth may indicate an underlying problem that needs prompt care. If symptoms persist or worsen consult your dentist. Talk to your Dentist or Doctor as soon as possible if you experience swelling of the mouth or face.
Help relieve your patients of dentine hypersensitivity with Sensodyne