Sensodyne Repair & Protect
Helps repair the sensitive areas of teeth*1–3
Sensodyne Repair & Protect contains patented NovaMin technology and sodium fluoride, and is proven to help repair* exposed dentine.1–3
Forms a reparative layer over exposed dentine*
This layer is harder than the underlying dentine4–7
Clinically proven to relieve dentine hypersensitivity8–10
Clinically proven for long-lasting protection against dentine hypersensitivity†8–10
*Forms a protective layer over the sensitive areas of teeth. Brush twice a day for lasting sensitivity protection †With twice-daily brushing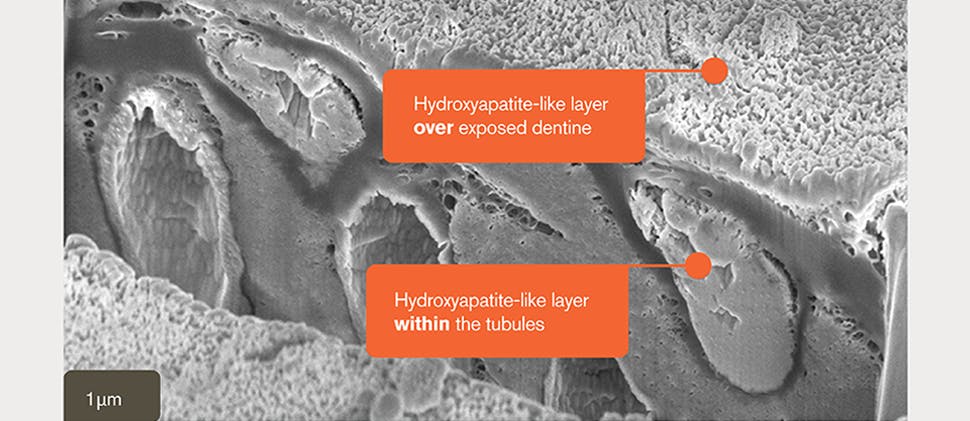 Sensodyne Repair & Protect is formulated with NovaMin
NovaMin forms a robust hydroxyapatite-like layer over exposed dentine and within exposed dentine tubules*7,11
SEM, scanning electron microscopyIn vitro cross-sectional SEM image of a hydroxyapatite-like layer formed by supersaturated NovaMin solution in artificial saliva after 5 days (no brushing); adapted from Earl et al. 20111 *It forms a protective layer over the sensitive areas of teeth. Brush twice daily for lasting sensitivity protection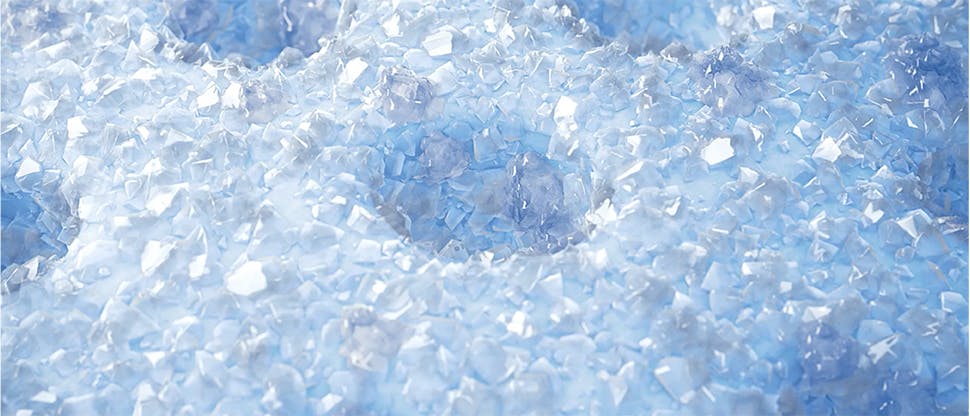 NovaMin creates a robust reparative layer over exposed dentine for lasting dentine hypersensitivity protection*7,11
*It forms a protective layer over the sensitive area of the teeth. Brush twice a day for lasting sensitivity protection
Sensodyne Repair & Protect (5% NovaMin and sodium fluoride 1450ppm)
For patients with dentine hypersensitivity who need sensitivity relief and would benefit from repair of exposed dentine.*7,11
Also available in a Whitening variant.
*It forms a protective layer over the sensitive area of the teeth. Brush twice a day for lasting sensitivity protection
Glycerin, PEG-8, Hydrated Silica, Calcium Sodium Phosphosilicate (NOVAMIN), Cocamidopropyl Betaine, Sodium Methyl Cocoyl Taurate, Aroma, Titanium Dioxide, Carbomer, Sodium Saccharin, Sodium Fluoride, Limonene. Contains Sodium Fluoride (1 450 ppm fluoride).

Always follow the label directions. Brush twice a day and not more than 3 times, minimise swallowing and spit out. Do not use if foil seal on the nozzle is broken. Remove foil seal before use. Replace lid to keep product dry.

Keep out of reach of children. Not for use by children under 12 years of age unless on the advice of a dental professional or doctor. Sensitive teeth may indicate an underlying problem which needs prompt care by a dentist. If symptoms persist or worsen, consult your dentist. If irritation occurs, discontinue use.
Sensodyne - the Number 1 dentist recommended brand for sensitive teeth*