Corsodyl short-term treatment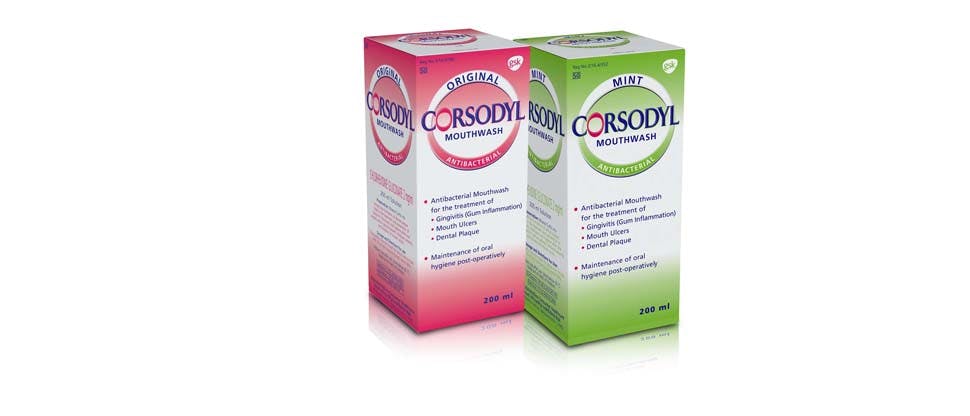 Kills, repels and lasts
Intensive treatment for persistent gum problems, clinically proven to be effective against bleeding gums, gum irritation and gum inflammation.1–3
Acts rapidly to significantly reduce oral bacterial count4
Prevents plaque build-up through 12-hour substantivity4
Significantly reduces gingivitis symptoms after 2 weeks following a supragingival prophylaxis1
Forms a protective antibacterial layer to help gum healing2,4
Clinically proven to accelerate gingival healing after periodontal surgery3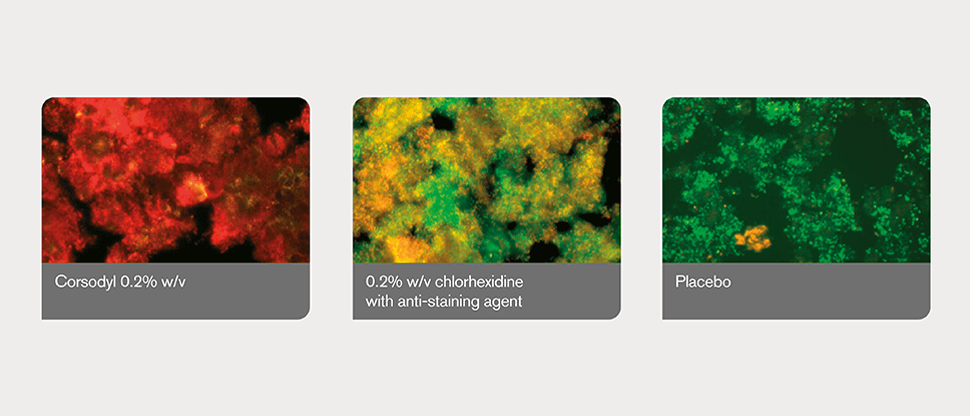 Not all chlorhexidine formulations are the same
In a 5-week randomised study, Corsodyl 0.2% w/v Mouthwash was more effective at inhibiting plaque growth when compared with another commercial 0.2% chlorhexidine solution with an anti-staining agent.5
After 4 days of treatment:5
73% reduction in plaque with Corsodyl 0.2% vs. 37% with comparator*5
78% reduction in biofilm vitality with Corsodyl 0.2% vs. 26% with comparator*5
Images show the vitality of the plaque biofilm after 4 days of treatment determined using an image analysis program to discriminate green (vital) bacteria, yellow (vital and dead) bacteria and red (dead) bacteria5*Mean values and statistical comparison between placebo and two chlorhexidine solutions in terms of plaque index, plaque area and biofilm vitality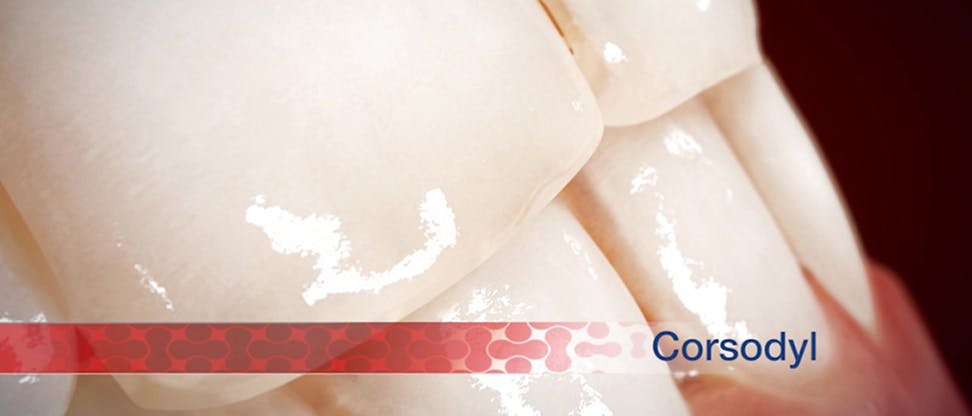 Rapid action
Chlorhexidine digluconate acts rapidly, killing the bacteria that cause plaque in 30 seconds4,6
Chlorhexidine is incompatible with anionic agents

Often present in conventional toothpastes, anionic agents interact with chlorhexidine.7,8 Toothpastes with anionic agents should therefore be used before Corsodyl Short-Term Intensive Treatment (rinsing the mouth between applications) or at a different time of day.

Simple recommendations to help avoid staining

To minimise the risk of staining after using chlorhexidine mouthwashes, advise patients to avoid tannin-containing food and drinks.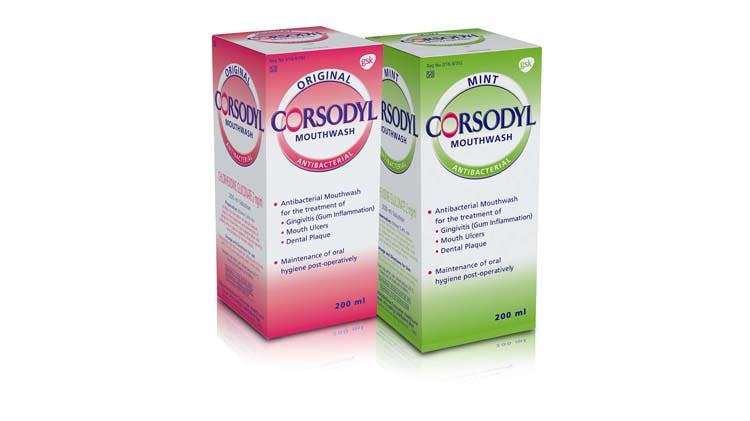 Corsodyl 0.2% w/v Mouthwash Original
For patients with gingivitis who need short-term intensive treatment that is clinically proven to be effective against bleeding gums, gum irritation and gum inflammation.1–3
Also available in Mint.
Ingredients

Corsodyl Mouthwash OriginalChlorhexidine Digluconate 2mg/ml, anise oil, cremophor RH 40, ethanol 5.7% m/v, peppermint oil, ponceau 4R (E 124; CI 16255) and purified water.
Sugar free.

Corsodyl Mouthwash MintChlorhexidine Digluconate 2mg/ml, cremophor RH 40, ethanol 5.7% m/v, peppermint oil, purified water and sorbital. Contains sugar.

Directions

Read the information below carefully before use. Use only if seal on cap is present and intact before opening.

Indications Corsodyl Mouthwash is an antibacterial solution which inhibits the formation of dental plaque. It is indicated as an aid in the treatment and prevention of gingivitis,and in the maintenance of oral hygiene, particularly in situations where toothbrushing cannot be adequately employed(e.g. following periodontal and other oral surgery or in mentally or physically handicapped patients). It reduces the duration and severity of both aphthous ulceration and oral ulcers caused by mechanical or chemical injuries e.g. orthodontic appliances. It aids in management of recurrent oral candidal infections.

Contraindications Corsodyl Mouthwash is contraindicated on those patients who have known hypersensitivity to chlorhexidine gluconate or any of the ingredients in the product.

Warnings & Precautions

For oral use only. Do not swallow.Keep out of the eyes and ears. In case of accidental contact with the eyes, wash out promptly and throroughly with water.

Discolouration:

A superficial yellow-brown discolouration of the dorsum of the tongue, of the teeth and on silicate or composite restorations may occur. The former disappears after treatment is discontinued; the latter can largely be prevented by brushing with conventional toothpaste, or in the case of dentures, cleaning with a proprietary denture cleanser. Where this is not possible as for example with intermaxillary fixation, or with extensive orthodontic appliances, a dental prophylaxis may be required once the underlying condition has resolved.

Taste:

Disturbances of taste sensation and numbness, tingling or burning sensation of the tongue may occur on initial use of Corsodyl Mouthwash. These effects usually diminish with continued use. If the condition persists, a doctor should be consulted.

Oral Desquamation:

Oral desquamation may occur when using Corsodyl Mouthwash. This may require dilution of the mouthwash(5ml mouthwash with 5ml tap water freshly mixed) and less vigourous rinsing, or discontinuation of the mouthwash.

Parotid Gland Swelling:

Swelling of the parotid glands during use of Corsodyl Mouthwash has been reported. In all cases spontaneous resolution has occurred on discontinuing treatment.
Corsodyl Mouthwash is incompatible with the detergents in most toothpaste. If toothbrushing with conventional toothpaste is carried out in addition to Corsodyl Mouthwash, this should either be done before the use of Corsodyl Mouthwash, rinsing the mouth thoroughly between applications, or at a different time of day(see interactions)

Effects on ability to drive and use of machines:Corsodyl Mouthwash has no or negligible influence on the ability to drive or the use of machinery.

InteractionsClinically significant interactions with other medicines are not known. Corsodyl Mouthwash is incompatible with anionic agents e.g. sodium lauryl sulphate (See Warnings and Special Precautions).

Pregnancy and lactationSafety in pregnancy or lactation has not been established

Dosage and Directions for Use

Use twice a day.

The measuring cap on the bottle holds 10 ml when filled to the line. Thoroughly rinse the mouth for about one minute with 10 ml twice daily.

Gingivitis:

For the treatment of gingivitis, a course of about a month is advisable although some variation in response is to be expected.

Oral Candidal infections:

In the case of oral candidal infections, treatment should be continued 48 hours after clinical resolution.

Denture Stomatitis:

For the treatment of denture stomatitis, the dentures should be cleansed and soaked in the solution for 15 minutes twice daily.

Children and Elderly:

The recommended adult dose is appropriate for elderly patients and children of 12 years and over, unless otherwise recommended by the dentist or medical practitioner. Children under 12 years of age should not use this product.

Side effectsSide effects are generally minor and local in nature. The frequency of the following adverse events are unknown.

Immune system disorders:

Hypersensitivity and anaphylaxis(see Contraindications).

Nervous system disorders:

Transient taste disturbance, transient numbness, tingling or burning sensation of the tongue may occur on initial use(see Warnings and Special Precautions).

Gastrointestinal disorders:

Discolouration of the teeth and tongue, soreness/irritation of the mouth, desquamation/soreness/swelling of oral mucosa, parotid gland swelling(see Warnings and Special Precautions)
In the case of soreness, swelling or irritation of the mouth, use of the product should be stopped and a dentist or doctor should be consulted.

Known Symptoms of Overdose and Particulars of its TreatmentIn the event of excessive systemic ingestion of Corsodyl Mouthwash, gastric lavage is indicated. Employ supportive measures as appropriate.
Due to the alcohol content in Corsodyl Mouthwash (5.4% m/v), ingestion of large amounts by children requires attention, seek medical advice for appropriate action.
Help your patients on their journey to optimal gum health