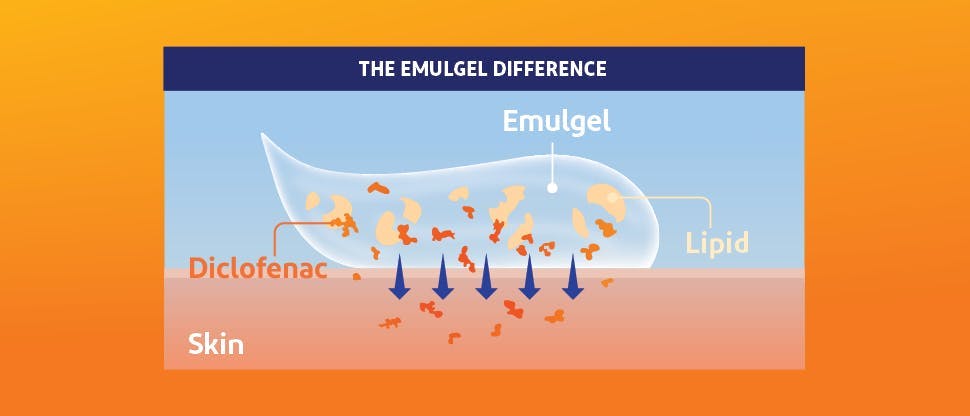 Targets Pain Directly at the Site
The Voltaren Emulgel formulation is an emulgel, a non-greasy formulation that combines a gel and cream for topical application. It is specially designed to penetrate deep through the skin at the site of pain to deliver muscular pain relief.
Voltaren Emulgel
Targets muscular skeletal pain at the site and persists there for long-lasting therapeutic effect.1
On its own, diclofenac does permeate the skin. However, Voltaren Emulgel is specially designed to aid the entry of diclofenac into and transit through the skin. It delivers diclofenac across the skin faster than a diclofenac solution of the same concentration.*1

*Comparison of diclofenac transdermal permeation ex vivo from Voltaren Arthritis Pain gel and a solution of diclofenac sodium (wt %, pH 8.1) in water/isopropanol 50/50 wt %).Source: Data on file, GSK 2019. Penetration Study.

Voltaren Emulgel facilitates the formation of a diclofenac reservoir within the skin.* The drug stocked in this reservoir releases continuously into the underlying tissue.1

*Image of diclofenac reservoir formation obtained ex vivo by Raman microscopy at Rutgers University, NJ.Source: Data on file, GSK 2019. Raman Microscopy Study.
Find out more about Voltaren Emulgel