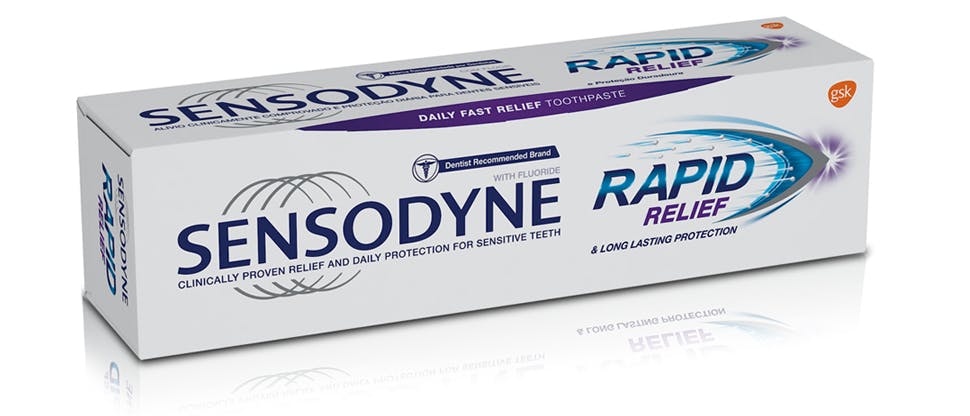 Helps beat dentine hypersensitivity pain fast1–3
Sensodyne Rapid Relief is uniquely formulated for rapid occlusion of dentine tubules and is for patients with a recent diagnosis of dentine hypersensitivity who will benefit from fast relief.1,4
Clinically proven relief from the first brush5
Clinically proven relief in 60 seconds after "dab-on" application3
Clinically proven lasting protection against dentine hypersensitivity*5

*With twice-daily brushing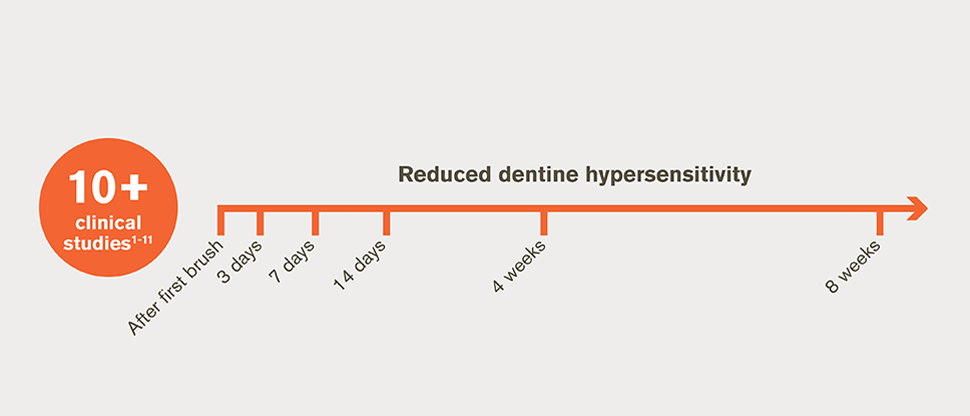 Rapid relief and lasting protection* from dentine hypersensitivity2,3,5–12
Sensodyne Rapid Relief has a unique formulation containing the proven active ingredient stannous fluoride.11 Over 10 clinical studies have demonstrated relief from dentine hypersensitivity, with efficacy shown at different endpoints.2,3,5–12
*With twice-daily brushing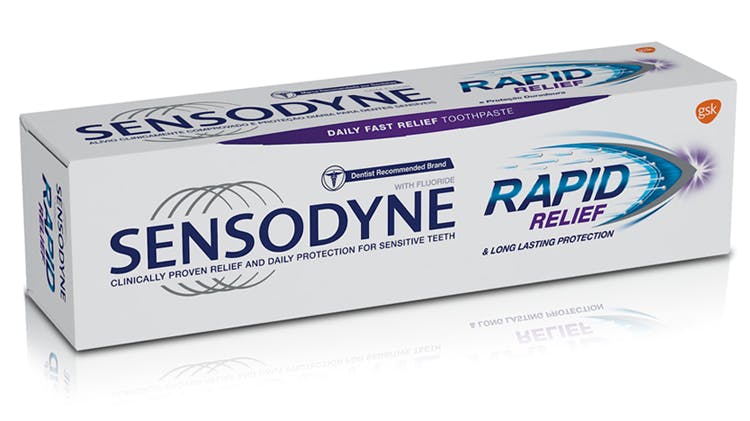 Sensodyne Rapid Relief (0.454% stannous fluoride [1450ppm fluoride])
For patients who are looking for fast relief of dentine hypersensitivity.3
Also available in a Whitening variant.
*With twice-daily brushing
Glycerin, PEG-8, Hydrated Silica, Pentasodium Triphosphate, Aroma, Sodium Lauryl Sulfate, Titanium Dioxide, Carbomer, Stannous Fluoride, Cocamidopropyl Betaine, Sodium Saccharin, Sodium Fluoride, Limonene. Contains Stannous Fluoride 0.454% w/w, Sodium Fluoride 0.072% w/w (1450 ppm Fluoride).

Always follow the label directions. Brush twice a day and not more than three times, minimise swallowing and spit out. For fast relief, brush sensitive teeth first OR squeeze a pea-sized amount onto a clean fingertip and gently rub onto each sensitive area (max twice per day) for 1 minute before brushing. Do not use if carton seals are broken. Replace lid to keep product dry.

Keep out of reach of children. Not for use by children under 12 years of age, unless on advice of a dentist or doctor. Sensitive teeth may indicate an underlying problem that needs prompt care by a dentist. If symptoms persist or worsen consult your dentist. If irritation occurs, discontinue use.
Sensodyne - the Number 1 dentist recommended brand for sensitive teeth*