Polident ProPartial Range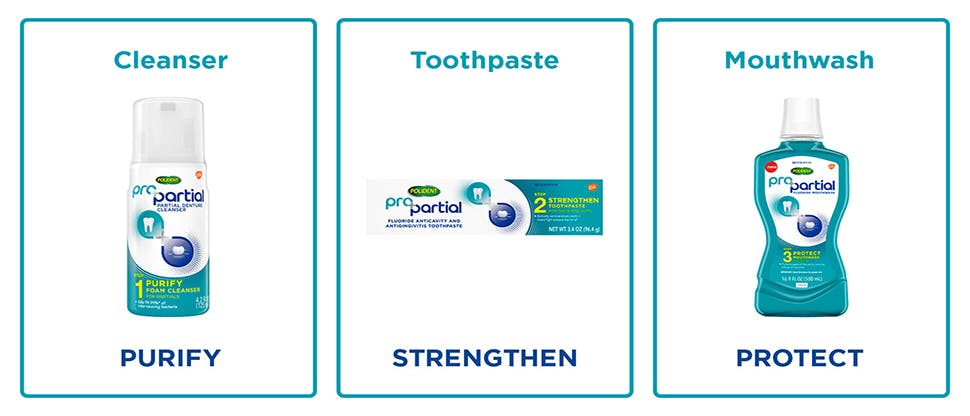 Polident ProPartial Range – a breakthrough in denture care
The Polident ProPartial range targets the risks associated with wearing removable partial dentures.
The simple 3-step range is specially developed to cleanse partial dentures, help strengthen teeth and help protect against odor-causing bacteria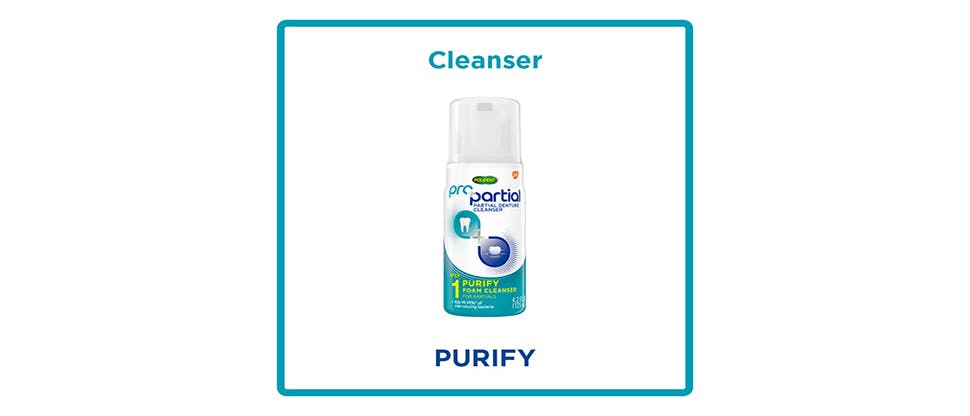 STEP 1 - PURIFY
Polident ProPartial Cleanser Foam fights odor-causing bacteria1,2*
Oral malodor
Kills more than 99.9% of odor-causing bacteria in 60 seconds1**
Feel fresh for up to 5 hours2**
Non-abrasive
Less abrasive than regular toothpaste when brushing3
Non-abrasive formula cleans partial dentures, which may discourage odor-causing bacteria attachment
Stain removal
Bleach-free formula
Helps remove tough stains4†
*in lab test**GSK data on file†when used as directed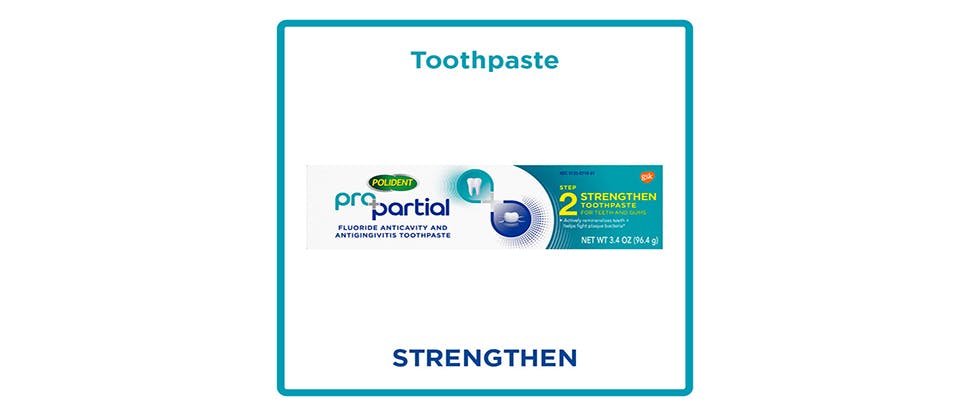 STEP 2 - STRENGTHEN
Polident ProPartial Toothpaste helps to maintain healthy gums and protect teeth
Fights decay
Actively remineralizes teeth5,6
Cavity protection5,6
Long lasting protection7-11*
Helps to improve gum health
Has been shown to significantly improve gingival health compared with a standard fluoride toothpaste12,13
Clinically proven to help reduce plaque14-16
Whitening
Gently removes surface stains
*with twice daily brushing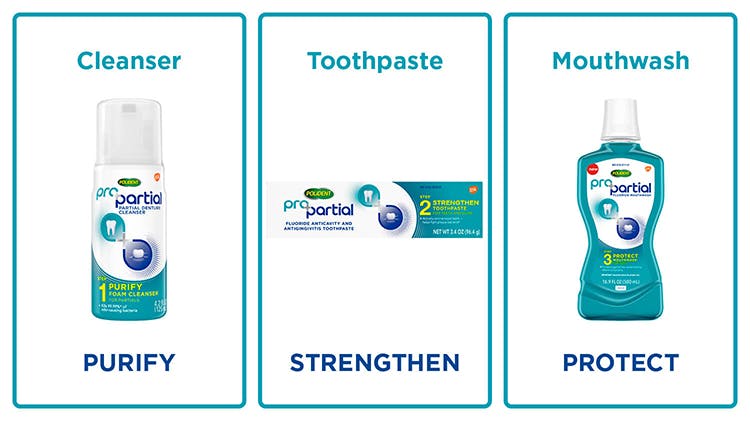 The Polident ProPartial range
A simple 3-step range developed to help cleanse partial dentures and help strengthen natural teeth.
Polident Polident ProPartial Product Details
Toothpaste – Stannous fluoride 0.454% (0.15% w/v fluoride ion)

Foam – purified water, glycerin, sesame oil, sorbitol, sodium lauryl sulfate, PVM/MA copolymer, PEG-40 hydrogenated castor oil, cocamidoProPyl betaine, sodium benzonate, flavors, benzoic acid, PEG-8, saccharin sodium, edetate disodium, butylated hydroxytoluene

Mouthrinse – Sodium fluoride 0.02% (0.01% w/v fluoride ion)

Toothpaste- Adults and children 2 years of age and older

Apply toothpaste onto a toothbrush
Brush teeth thoroughly, preferably after each meal at least twice a day, and not more than 3 times a day or as directed by a dentist or doctor.
Minimize swallowing. Spit out after brushing
To minimize swallowing for children under 6 years of age, use a pea-sized amount and supervise brushing and rinsing until good habits are established.

Children under 2 years of age: Consult a dentist or doctor

Foam –

REMOVE PARTIAL FROM MOUTH

Hold partial firmly
Shake bottle well before use
Pump fully 2 times onto partial, adjusting the amount if needed
Brush partial for 90 seconds, using a soft brush
Rinse partial thoroughly with water, before inserting into mouth
Wash hands well after use

Mouthwash – Adults and children 6 years of age and older

Use twice a day after bushing your teeth with a toothpaste
Remove cap
Pour 10 ml into cap – do not fill above the 10ml mark
Vigorously swish 10 ml of rinse between your teeth for 1 minute then spit out

Warnings: Keep out of reach of children, If more than used for rinsing is accidentally swallowed get medical help or contact a poison control center right away.

Other information: Swallowing small amounts of this product, when used as directed, may occur & it is not harmful.
Find out more about Poligrip